Obtenir ce pack
Plus besoin de créditer l'auteur

2,819,500 + icônes premium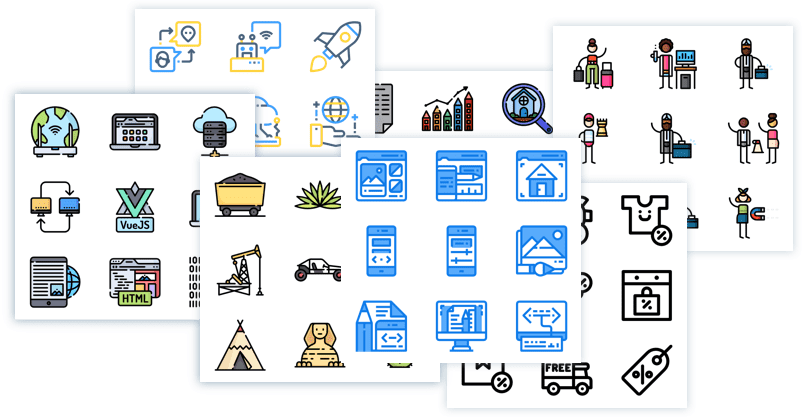 | | Gratuit | Premium |
| --- | --- | --- |
| Des milliers d'icônes et de stickers gratuits | | |
| 5,532,000+ icônes et stickers premium | | |
| Pas d'attribution nécessaire (Plus d'informations) | | |
| Téléchargements illimités (Plus d'informations) | | |
| Collections illimitées | | |
| Utilisation illimitée de l'éditeur | | |
| Assistance prioritaire | | |
| Pas de publicités | | |
Licence complète
Ne vous souciez plus d'attribuer les illustrations avec l'Inscription au plan Premium. Utilisez n'importe quelle illustration, à des fins commerciales ou personnelles, sans devoir créditer l'auteur.
Contenu exclusif
Vous êtes maintenant un membre VIP. Accédez à nos icônes et stickers exclusifs que seuls les membres Premium peuvent télécharger gratuitement.
Production continue
Chez Flaticon, nous augmentons constamment notre contenu disponible pour nos utilisateurs en proposant la meilleure qualité d'icônes et de stickers en SVG, EPS, PSD et PNG.
Pas de publicités
Naviguer sur Flaticon est désormais plus simple. Vous pouvez vous concentrer pleinement sur votre travail sans aucune publicité.
Ce que nos utilisateurs disent sur nous

Rachel Lieber rachelAlieber
I don't know how I did anything before @flaticon Just being honest on this beautiful Sunday.
Cecilia Carr _Welcome_Wonder
@flaticon Thank you for all your hard work and for providing such excellent icons! I love using your google extension in my teaching slides/materials! The added visuals are simple, clean, meaningful and so cute! 😍🤩
kamal ganwani ganwani_kamal
@flaticon very useful websites, helped me alot in getting the required icons.
Dire DireSijuwola
Flaticon comes in handy so much.

ErikaG egonz15
This is a long over due thank you to @flaticon who has made all my powerpoints incredibly cute and awesome.
FAQ
Question

Can I use downloaded icons and stickers to create work for a client?

Réponse

You can use our icons and stickers for your projects as long as they comply with our usage rules: Read more

Question

What are the benefits of a Premium Membership?

Réponse

As a Premium User you will be able to download licenses that will allow you to use our icons and stickers without attribution. Furthermore, you will have access to our Premium Icons and stickers. 

Also, your download limit will be extended to 2000 icons and stickers per day.

Question

How many collections may I create?

Réponse

Free accounts have a limit of 3 collections (50 icons-limit in each one); on the other hand, premium accounts can create unlimited collections (256 icons-limit in each one).

Question

Will I get an invoice of my purchase?

Réponse

Our system automatically generates an invoice about 24 hours after we have received the payment.

You will be able to download it from your Subscriptions page.

Question

Is my subscription automatically renewed every month?

Réponse

Yes. Your subscription will renew automatically unless you cancel this option (always with the original price, no discounts apply for renewals). To cancel the automatic renewal of your subscription and avoid future non-desired payments you must cancel your subscription from your user's profile.


Please make sure you do this after you have received a message from Flaticon confirming that the payment of your purchase has been successfully completed, otherwise you will cancel your subscription completely.

Question

Can I cancel my subscription and order a refund of my purchase?

Réponse

At Flaticon we want you to be happy. So, if you are not completely satisfied with our services, we offer a 30-day refund guarantee.

You can get the full refund within 30 days from the purchase date, if and when, you didn't get to use the service, that is, you haven't downloaded any icon or sticker.

If that is your case, you can request the refund through support@flaticon.com

You can only request the refund of the current billing period. Please note that previous subscriptions cannot be refunded. Read more.

Question

What is the difference between the Free and Premium members?

Réponse

Free member: you must add a link to Flaticon and credit the author in exchange for using the icons and stickers. To credit the author, you must use Designed by Flaticon in case the icons/stickers were made by Flaticon, or the author's name in other case. 

How must I insert the attribution?


Premium member: you can use the icons/stickers without crediting the author, be it Flaticon or one of our contributors. Additionally, you will have access to exclusive resources available only for premium users.