Get this pack
Forget about crediting the author

Get all SVG and EPS icons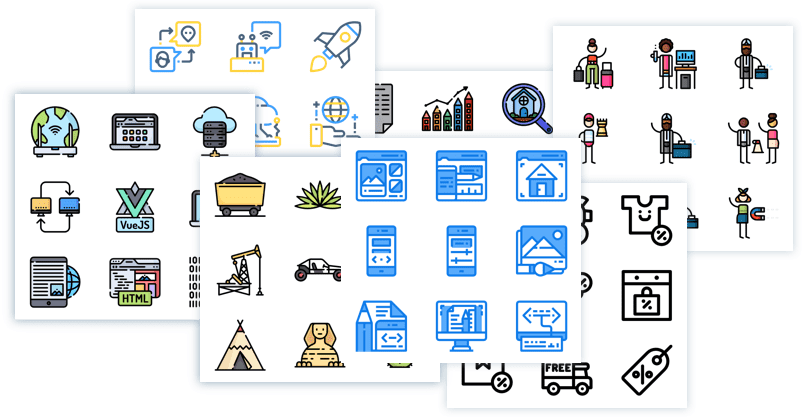 | | Free | Premium |
| --- | --- | --- |
| 8.3M+ free icons, stickers, and logos in PNG | | |
| 8.3M+ icons, stickers, and logos in editable formats such as SVG, EPS, PSD & CSS | | |
| No attribution required (more info) | | |
| Up to 2000 downloads daily (more info) | | |
| Unlimited collections | | |
| Unlimited use of the editor | | |
| Priority support | | |
| Ad-free | | |
Without attribution
You can use any asset without attributing the author for commercial or personal use. Icons, stickers, and logos ready to use.
Premium content
Download editable files compatible with professional design tools: SVG, EPS, PSD, CSS formats, and more.
New assets daily
Discover over 10K new editable assets daily. That means 50K icons, stickers, and logos per week and more than 200k per month.
Ad-free
Focus on what matters with an ad-free interface. Scroll through a screen of high-quality assets and select your best fit.
FAQ
Question

Can I use downloaded icons to create work for a client?

Answer

You can use our icons for your projects as long as they comply with our usage rules: Read more

Question

What are the benefits of a Premium Membership?

Answer

As a Premium User you will be able to download licenses that will allow you to use our icons without attribution. Furthermore, you will download our icons in SVG, EPS, PSD, BASE 64 and PNG formats.

Also, your download limit will be extended to 2000 icons per day.

Question

How many collections may I create?

Answer

Free accounts have a limit of 3 collections (50 icons-limit in each one); on the other hand, premium accounts can create unlimited collections (256 icons-limit in each one).

Question

Will I get an invoice of my purchase?

Answer

Our system automatically generates an invoice about 24 hours after we have received the payment.

You will be able to download it from your Subscriptions page.

Question

Is my subscription automatically renewed every month?

Answer

Yes. Your subscription will renew automatically unless you cancel this option (always with the original price, no discounts apply for renewals). To cancel the automatic renewal of your subscription and avoid future non-desired payments you must cancel your subscription from your user's profile.


Please make sure you do this after you have received a message from Flaticon confirming that the payment of your purchase has been successfully completed, otherwise you will cancel your subscription completely.

Question

Can I cancel my subscription and order a refund of my purchase?

Answer

At Flaticon we want you to be happy. So, if you are not completely satisfied with our services, we offer a 30-day refund guarantee.

You can get the full refund within 30 days from the purchase date, if and when, you didn't get to use the service, that is, you haven't downloaded any icon.

If that is your case, you can request the refund through support@flaticon.com

You can only request the refund of the current billing period. Please note that previous subscriptions cannot be refunded. Read more.

Question

What is the difference between the Free and Premium members?

Answer

Free member: you must add a link to Flaticon and credit the author in exchange for using the icons. To credit the author, you must use Designed by Flaticon in case the icons were made by Flaticon, or the author's name in other case.

How I must insert the attribution?


Premium member: you can use the icons without crediting the author, be it Flaticon or one of our contributors. Additionally, you will have access to exclusive resources available only for premium users.